THE CATHAR PYRENEES: COUNTRY OF ART AND HISTORY
In their agrotourism farm, Nadine and Stéphane welcome you in charming Gîtes and Guest Rooms. Let yourself be carried away by these magnificent landscapes, in a warm atmosphere full of discoveries…
Barréjat is at the heart of the "4M", the 4 major sites of the Cathar Pyrenees: Montségur, Mirepoix, Monts d'Olmes, Montbel. We are ideally located near exceptional heritage sites: Carcassonne (40 minutes), rock church of Vals, caves of Niaux, Bédeilhac, Castle de Foix, etc…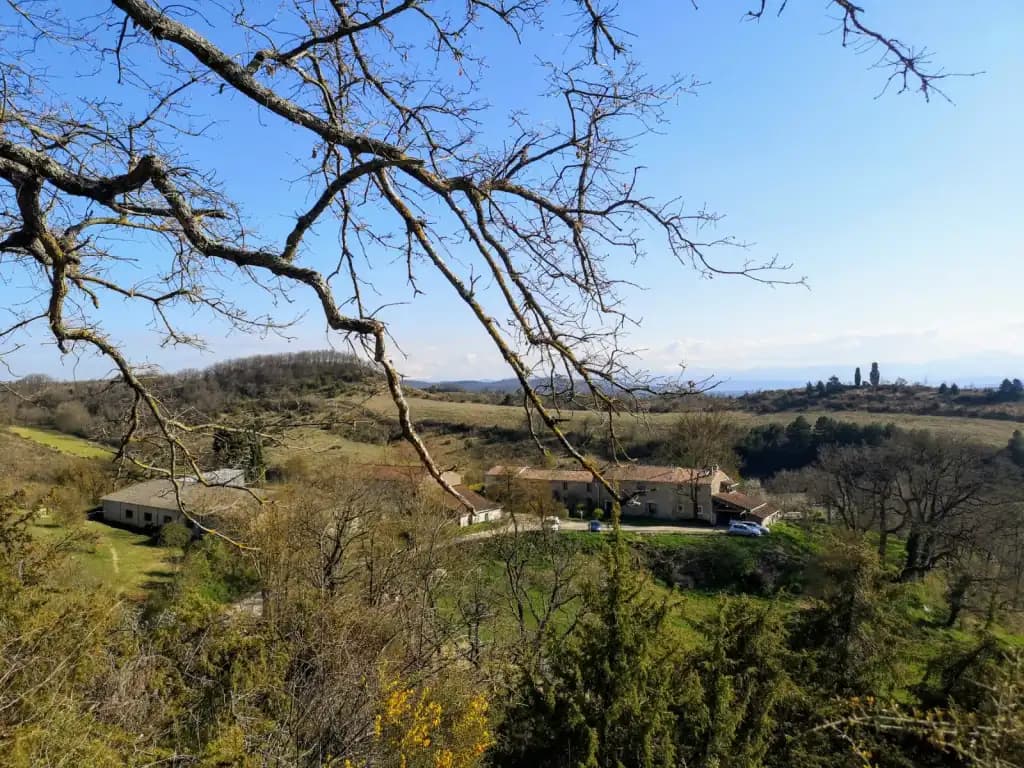 BARRÉJAT'S LITTLE EXTRA
Our Jacuzzi Spa
For the ultimate in relaxation, come and enjoy our SPA Alina, featuring Jacuzzi Blower, massage and chromotherapy.
New in the little Maison des Jacquets on the Bassin d'Arcachon and in Ariège in our gîte le Pommier in Barréjat.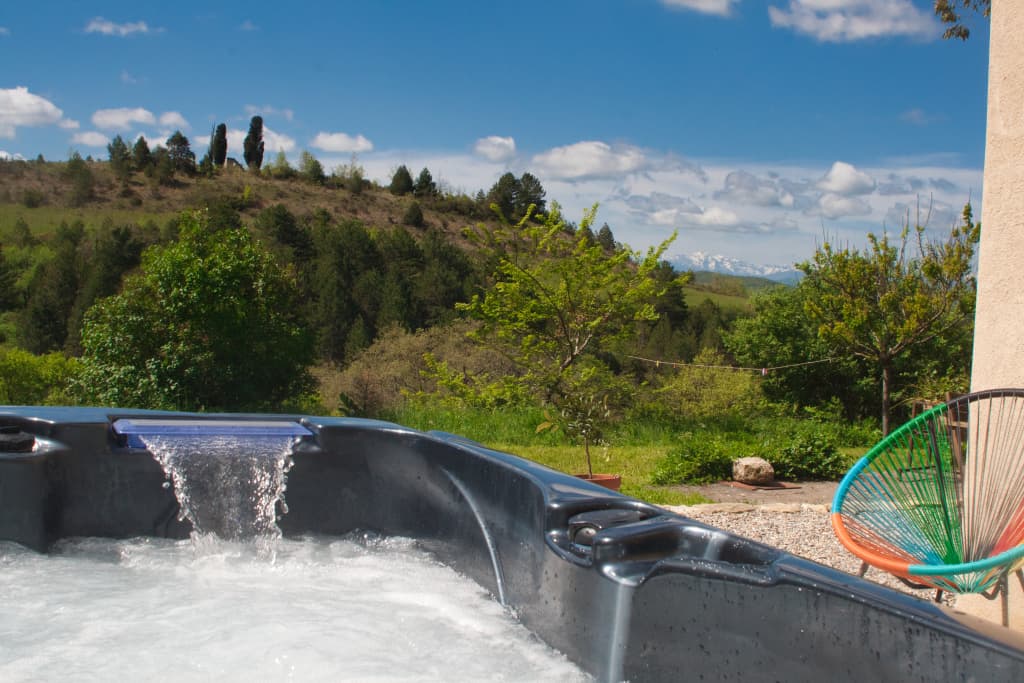 Our table
Indulge in a gourmet breakfast (€8/person) ?
Enjoy a gourmet continental breakfast prepared by Stéphane. Coffee, tea, chocolate or herbal tea with fruit juice, bread, toast, rusks, butter, homemade jam, homemade yoghurt, local honey, cold cuts, boiled eggs, cakes, fruit… Everything you need for a good start to the day.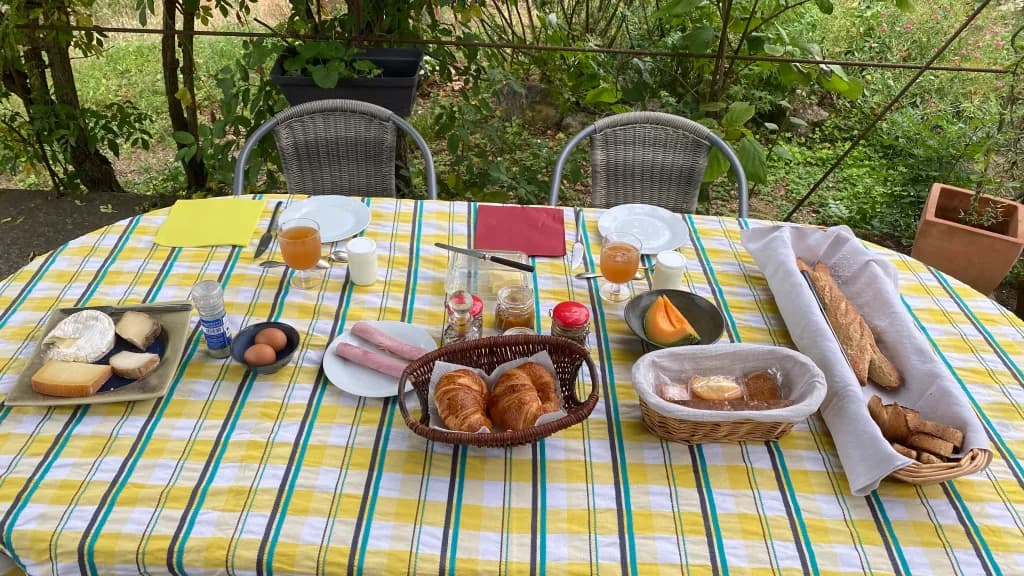 You can also enjoy our table d'hôtes (25€/Pers, aperitif included).
Nadine and Stéphane are as good cooks as they are gourmets. So why deprive yourself? Attentive to your dietary restrictions or preferences, they'll prepare an exceptional meal for you, on reservation.
Our salt pool
For lazy afternoons or the hottest hours of the day, our crystal-clear saltwater swimming pool is the perfect place to relax and unwind. On the spacious travertine beaches, relax on comfortable deckchairs and enjoy the panoramic view of the Ariège Pyrenees. The swimming pool is heated from May onwards and secure. The annex houses a fully-equipped summer kitchen, a stone barbecue and a toilet…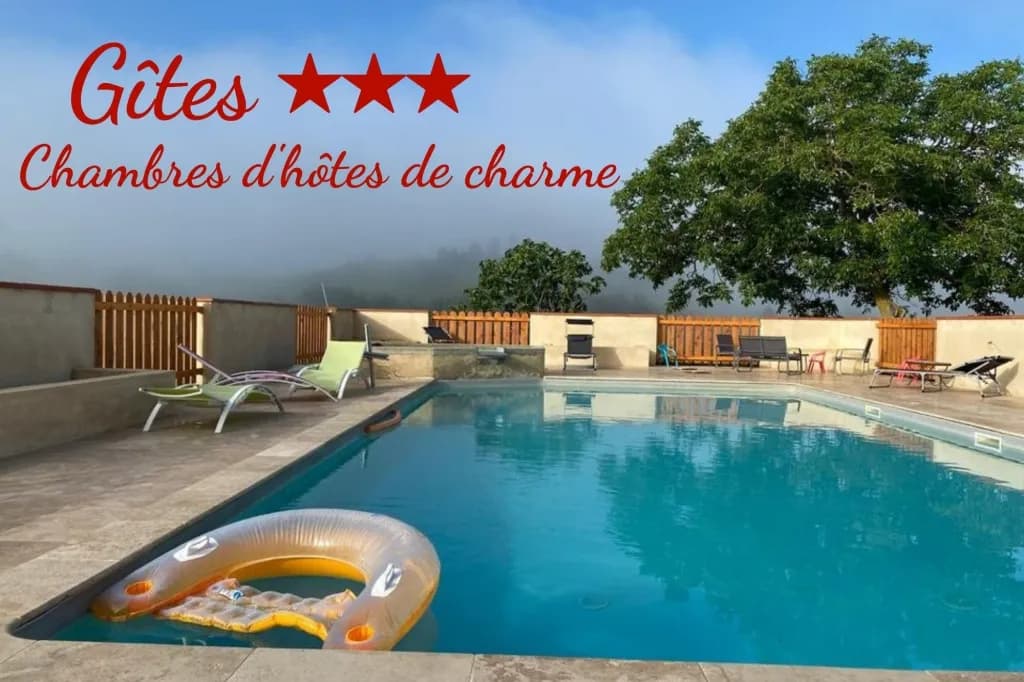 Seminars and family gatherings
Our guest house in association with our gîtes can accommodate small groups, seminars or large families outside the high season. Table d'hôtes available on reservation.
and much more...
Lounge with library and regional books for the duration of your stay…
For our biker friends, a shelter is available.
Baby equipment available on request …
Cleaning products provided by Terres de Barréjat
Household and bed linen on request
Cleaning staff
Miscellaneous services: linen change …
For your four-legged companions, only trained dogs on a leash will be admitted. A certificate of insurance is required.
A library and regional books are available during your stay.
Shopping service! In view of the heavy summer traffic and for your peace of mind, Stéphane offers to do your first shopping at Super U.